Zelda Premium Earbuds from PDP
Performance Design Products has been pumping out Nintendo Switch accessories at an really great pace, and we've been privileged to look at a number of their more premium products. So far, we've looked at the Elite Player Backpack, the starter kit, and the various skins available for the system. Today, we are taking a peek at the Zelda premium ear buds, a great on-the-go option for Nintendo Switch and Zelda fans!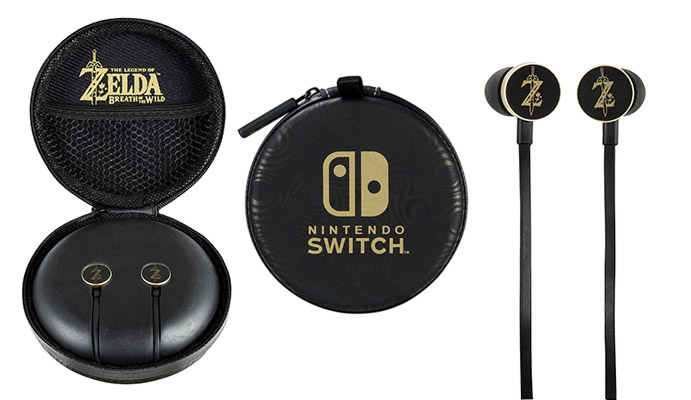 If nothing else, the packaging for these earbuds is phenomenal, and once again, PDP is showing that when it comes to creating products, it's not just about making profits, but producing items that Nintendo Switch fans will be proud to own. Off the top, I must admit that I'm not an earbud kind of guy. I prefer my gaming headsets to cover my ears and block out noises around me. That's why I tend to lean towards the PDP AG 9+ headset, as opposed to these earbuds. That being said, when on the go with the Nintendo Switch – as you often will be – carrying around a bulky headset really isn't an ideal situation, so being able to bring along these neat little earbuds is a bonus.
The presentation of the earbuds is top notch. The included round carrying case has the Nintendo Switch Logo in gold lettering on one side, and the Legend of Zelda image on the other. When unzip the case and flip it open, the top side will have another Leged of Zelda: Breath of the Wild logo and a small mesh pocket, while the bottom half of the case will have a rubber insert that neatly packs the earbuds away in a professional, "put me on display" kind of way.
The quality of the earbuds themselves are pretty good, and definitely better than your average 19.99 set of earbuds. No, these are not 50$ apple earbuds, or even more expensive Beats brand buds, but the for the purchase price, these PDP creations outshine their competitors in a similar price range. While these are not the most comfortable earbuds on the market, I do think they are very serviceable, and the sound quality is top notch. For me, these two aspects are 1-2 in determining whether I purchase. The design, while unimportant to me, is for others, and these earbuds shine in that aspect as well.
One great feature of these earbuds is actually the portability of the case. Since they come in such a small package, they can easily be stored in a backpack or purse without taking up significant room. The outside even has a nifty loop which easily can attach to the wrist strap on the PDP carrying cases. When taking my Switch on day trips in Southwestern Ontario, I always attach the earbuds case to the carrying case, and never worry about the space it might take up when moving about.
Unfortunately, the adapter on the headset wire itself only provides a pause-play function, and not an audio up or down function. Although this is a minor gripe, it would have been a nice addition to the earbuds as a whole. Regardless, we think these earbuds from PDP are fantastic, especially for the price. If you are looking for something compact for your Nintendo Switch, or you are a huge Legend of Zelda: Breath of the Wild fan, picking these up is a no brainer! You can find out more over on the PDP website!
Free To Play Games:
Like what we are doing? Support our writers and website.Thanks!