Creative Sound BlasterX Vanguard K08 Keyboard Review
If you've been following our site for the last year or so, you will have seen numerous Creative product reviews. These reviews have exclusively been audio related, whether it was the small 2.1 surround T4 system for your computer or TV, the Under Monitor Audio System, Katana, or the impressive line of water proof speakers Creative has launched. Everything to date has been about audio. We flip the script on that today with our first non-audio review for Creative. We are looking at the Creative Sound BlasterX Vanguard K08 Keyboard. Let's see how it stands up to the competition.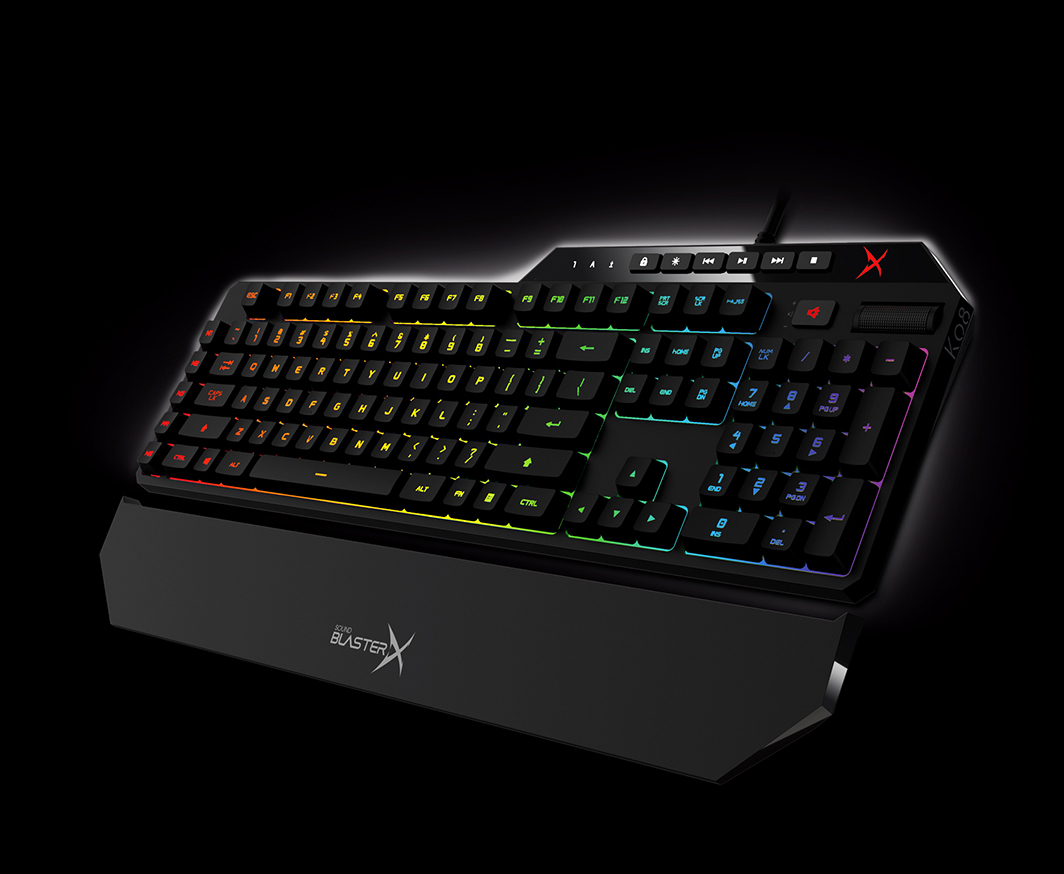 This is Creative's first attempt at releasing a gaming keyboard into a marketplace full of competition, and for the most part, I think the company did an excellent job providing the basics of a quality gaming keyboard. While a few things are less than ideal, the overall product is worthy of any Creative fans time, and makes the perfect edition to that already stellar Creative setup you might own.
Design
Almost all keyboard manufacturers now a days are pumping out very similar products under different name brands, hoping you prefer their name over others. Whether it's a positive or a negative, Creative – for the most part – falls into the same trap. While I thoroughly enjoyed the satisfying feel of pushing in the buttons, I wasn't convinced that the experience was better than any of the other gaming keyboards I've used in this price range. I do prefer Creative products, however, so this will quickly become a permanent fixture on my office desk.
Creative brings lots of customization to their keyboard, including programmable hot keys and a wide range of lighting options, all interchangeable through the Creative Sound Blaster Connect application – downloadable, and not included in the box! The Keyboard has a little internal memory built in, which means moving your keyboard between computers won't make you lose your own pre-sets, which is a bonus over other keyboard manufacturers that do not provide the same service.
Another key feature of the keyboard is the USB 2.0 pass through, meaning you won't have to reach down to your tower to insert USB keys or other similar devices. To accommodate this, the cable going from the keyboard to your tower uses two USB ports to power both the keyboard and the pass through. Unfortunately, out of the box, the cord for the Vangaurd is incredibly stiff, and while we assume this will probably change overtime, if you are use to moving your keyboard around as a reaction to how you are sitting in your chair, you might deal with some unpleasant resistance.
The other minor flaw with this keyboard is the wrist rest that is included. The rest itself doesn't seem to permanently connect to the keyboard, as it is only held in place by two small plastic prongs. If you move the keyboard, the rest will not be coming with you. While the important aspects of the keyboard are all durably constructed, the rest feels a bit flimsy and cheap. It's a minor gripe, as it doesn't affect the functionality of the keyboard itself, but a gripe none-the-less.
How it Works
Keyboards can look fancy and come with great customizable software – and Creative does both of these very, VERY well – but it's all for naught if the keyboard itself doesn't function in an appropriate way. If you've followed are site often, and seen are numerous hardware reviews, you'll know we fall on the fan side of devices, not the overly techy side. Whenever we do reviews such as these, I'm left at the mercy of other reviewers for the technical aspects. Here is what I know: the keyboard works well, feels great, and doesn't have any significant lag. That being said, friends in the industry have let me know that Creative stepped outside the norm with the switches used in their keyboard, which is a mute point to some, but important for others.
Creative has tapped mouse switch design company Omron to design the switches for their keyboard. Unlike other hardware companies, Creative uses the Perceive-React-Execute Switch system, which in lay mans terms, makes the keyboard incredibly quiet, and great for both gaming and typing. For me, both features are incredibly important. I hate the loud sounds of clicking keyboards, especially if it's my wife playing a game rather than me. The irritation levels hit their maximums, pretty quickly. On top of that, the ability to use my keyboard for gaming AND word processing is a huge for me; work requires me to do tons of writing – press releases, etc. With previous keyboards, I would actually have two that I would interchange: one for working, one for gaming. With the Vanguard, I can do both.
Conclusions
As their first attempt at a gaming keyboard, I think Creative has done an excellent job, and I cannot wait to see what the engineers there will come up with next. Using the PRES switches over the standard MX makes a huge differences for me, although regular gamers might ultimately prefer the more tested MX system. Regardless, I think for the price, Creative has produced a great product that most people will enjoy. You can grab your own by heading to Creative's website!
Free To Play Games:
Like what we are doing? Support our writers and website.Thanks!